Top 5 Cyber Security Bootcamps in Florida in 2023
It's estimated that by 2025, our collective data will reach 175 zettabytes—that's 175,000,000,000,000,000,000,000 bytes—and we don't have enough cybersecurity professionals to keep it all safe. This urgent reality is causing the demand for qualified cybersecurity analysts to soar, in turn prompting new forms of cybersecurity education.
The cybersecurity bootcamp is one of the most popular examples of this. The hands-on yet self-paced teaching style favored by bootcamps makes them viable options for a variety of individuals, whether you're already established in the workforce or at the beginning of your career. Bootcamps aim to produce job-ready graduates in just 4-10 months, and oftentimes, programs include preparation modules and exam vouchers for respected professional certifications.
Their popularity, however, has resulted in a wide range of different providers and course options, complicating the enrollment process. In this article, we'll take a look at some of the best-rated bootcamps available in the state of Florida.
Understanding Cybersecurity Bootcamps
Cybersecurity bootcamps are a different kind of educational experience compared to college courses. Their hyper-focused curriculums are designed to teach you exactly how to work as a cybersecurity professional and utilize hands-on projects to give you practical experience in day-to-day tasks.
Bootcamps cover the essential skills and experience that are required to land a job in cybersecurity. These include:
Penetration testing: using a fixed set of hacking techniques to test the security of a specific point in the system

Ethical hacking: using a variety of hacking techniques to identify vulnerabilities and assess the security of the system as a whole

Incident response: the structured process of detecting, containing, eradicating, and recovering from an ongoing cybersecurity incident
Bootcamps are designed to be accessible to full-time employees working towards a career change, so most providers offer part-time as well as full-time courses. Full-time options are often intense, requiring up to 50 hours of study per week, while part-time courses are much more flexible. Some have evening classes one to three times a week, while others opt for a fully self-paced schedule that relies on pre-recorded lectures.
Comparison of Best Cyber Security Bootcamps in Florida
Here are our top five cybersecurity bootcamps in Florida.
University of South Florida
The University of South Florida's Online Cybersecurity Bootcamp with USF CTPE is a fully online course that combines the benefits of self-paced learning and personalized support. Weekly mentor calls, technical mentor support, student advisor support, and career coaching are all included in the tuition, as well as an exam voucher for the CompTIA Security+ certification. 
Rating
(No reviews available)
Features
100% online

Self-paced

One-on-one career services

One-on-one mentor calls

CompTIA Security+ prep and exam voucher
Duration
Six months
Price
$9,900
BrainStation delivers its cybersecurity course in a next-gen online learning classroom that creates smooth interactive experiences and keeps you in contact with instructors and classmates. The course focuses on a mixture of cohort and independent learning and requires students to attend weekly three-hour-long classes at a set time.
Rating
Features
100% online

Weekly live classes

Project-based curriculum
Duration
Eight weeks
Price
$16,500
Claim Academy provides an intensive Full Stack Coding Program, accessible from anywhere. It is designed for beginners, aiming for outcomes in either a 12-week full-time or 20-week part-time format. No prior coding experience is needed, just a high school diploma or GED. The application involves pre-course work and a programming-related interview. Students can expect to commit similar hours to their Cybersecurity course, with flexibility to fit around their schedules.
Rating
Features
100% Online

12-week full-time program

20-week part-time program
Duration
12-20 weeks
Price
$15,998
The Clarusway Cybersecurity Analyst Professional course is online and part-time, with three hours of live online classes every weekday evening. Collaborative work with other participants allows students to develop their soft skills and technical skills at the same time. The course prepares students for the CompTIA Security+ exam before going into a module on cybersecurity operation center experience, and finishes off with a module on job hunting.
Rating
Features
Part-time schedule

One-on-one mentoring

Online
Duration
5 months
Price
$14,000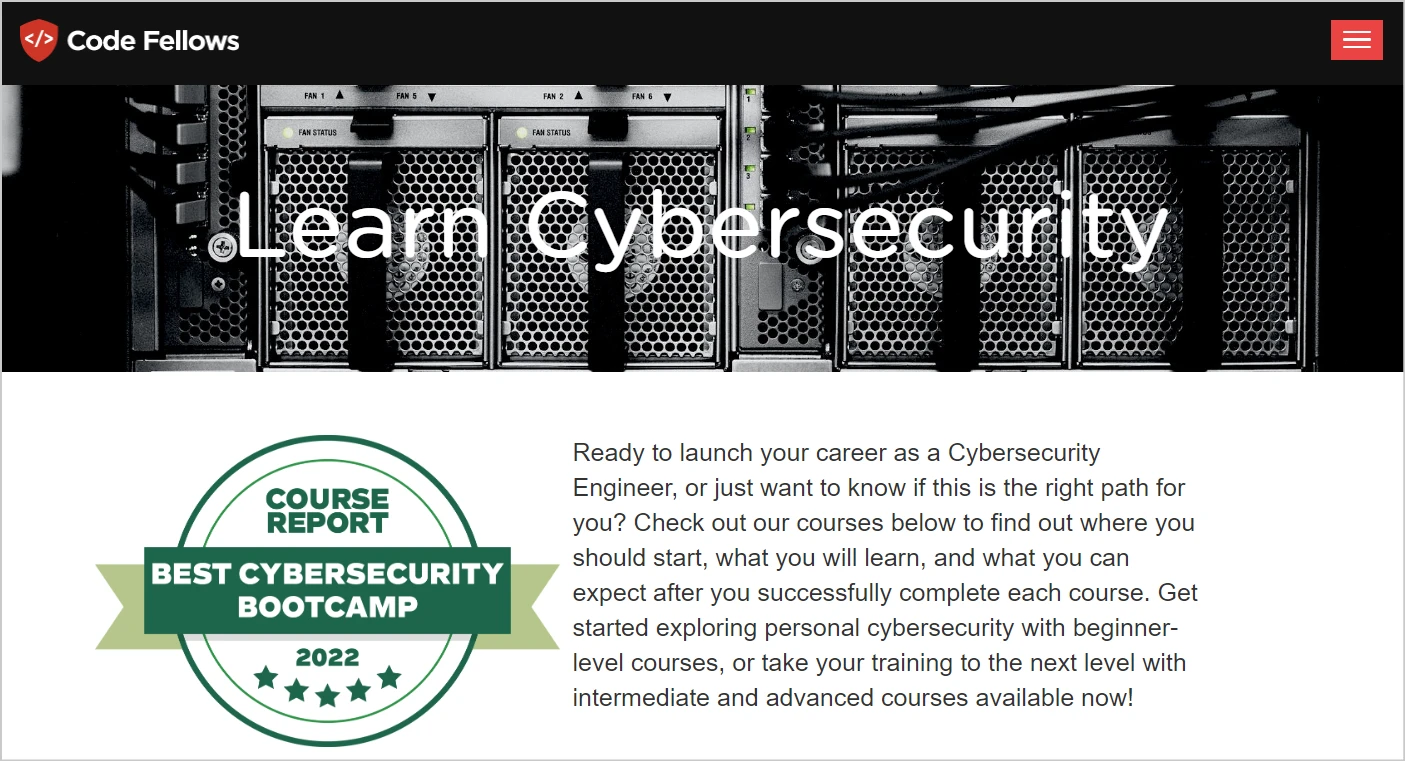 The Code Fellows Cybersecurity course is separated into modules, which allows students to test into the right level for them. The Ops 201 module builds a foundation in Windows troubleshooting skills and is available as a four-week daytime course, a nine-week nights and weekends course, or a 16-week self-paced course. The Ops 301 module can be taken after completing 201 and it dives into networking and systems administration. The same scheduling options are available.
Rating
Features
Day, night, and self-paced schedules are available

Prep for the CompTIA ITF+

Career services
Duration
Up to 16 weeks
Price
$5,000 per module
The Rise of Cybersecurity Bootcamps
While coding bootcamps have existed since around 2013, cybersecurity bootcamps are a much newer development. The first courses began opening up in 2020 in response to the growing demand for cybersecurity professionals, and in 2022, Career Karma reported that there are now 3,286 cybersecurity bootcamp graduates. The field now makes up 8.5% of the bootcamp market and is predicted to keep growing.
The shortage of cybersecurity professionals is so severe that around 700,000 open positions were counted throughout the U.S. in 2022, and even the federal government is taking action. Bootcamps play an important part in addressing this demand as they produce graduates that are ready for the workforce in a very short amount of time.
While the government focuses on setting up infrastructure that will encourage more cybersecurity talent to emerge from future generations, bootcamps are addressing the urgent need for cybersecurity professionals in the here and now. 
In Florida specifically, there are around 22,000 unfilled cybersecurity positions, and this number is projected to grow at the same 35% rate as the rest of the country.
Components of a Top-Notch Cybersecurity Bootcamp
Cybersecurity bootcamps vary depending on the provider, but there are some common offerings amongst the best-rated courses.
The first of these is certification exams. Industry certifications validate graduates' skills and help them land a job, so many quality bootcamps have integrated certification prep into their curriculums. Some of the most popular certifications include CompTIA Security+, Certified Information Systems Security Professional (CISSP), and GIAC Certified Incident Handler (GCIH). Some providers will also include exam vouchers in their tuition costs.
Next, there are real-time learning experiences. Many providers use or have developed their own virtual lab software that simulates life-like cybersecurity incidents for students to respond to. This allows students to see what cyber attacks look like firsthand and gain real-life experience in incident response. It greatly enhances the educational experience and is integral to the bootcamp's overall goal of producing graduates that can go straight into an entry-level position after completing the course.
Another important service offered by quality bootcamps is career coaching. This helps students optimize their resumes and cover letters, practice interviews and salary negotiations, and develop an effective job search strategy. Career modules and resources also provide more information on the industry and the different cybersecurity roles available, such as:
Cybersecurity analyst

Cybersecurity consultant

Vulnerability analyst

Penetration tester

Cybersecurity administrator 

Network engineer

Security systems engineer
The Benefits of Online Cybersecurity Bootcamps
The popularity and availability of online bootcamps soared during the pandemic. Career Karma's 2020 report showed that just 13 of 105 bootcamps had online options. Now, just a couple of years later, almost every bootcamp provider offers online versions of their courses.
The benefits of online bootcamps are numerous: they eliminate travel time, increase comfort and flexibility, and reduce geographical limitations. These quality-of-life improvements make bootcamps even more viable for full-time or part-time workers, and allow students to commit to their education without making sacrifices.
The USF CTPE Online Cyber Security Bootcamp combines completely self-paced online study with one-on-one support to create a flexible yet personalized learning experience. Every student is assigned a student advisor, an industry mentor, and a career coach for support, with the ability to arrange calls around their schedule.
Preparing for a Cybersecurity Bootcamp
Prerequisites for cybersecurity bootcamps depend on the provider. In some cases, students are required to have prior knowledge of Python or some professional work experience. In other cases, there are no technical prerequisites at all.
However, there are still things you can do to prepare and get into the right mindset before your bootcamp begins. If you're completely new to cybersecurity, it's useful to read up on the history of the industry and learn a few key concepts. Organizations like IBM offer introduction courses on the topic and many others.
Another part of preparing for a bootcamp is making sure you get the answers to all of your questions. Here are a few common ones:
Does Cybersecurity Require Coding?
Entry-level positions often won't require extensive experience with coding but it is a great skill to develop over the course of your career in cybersecurity. Most bootcamps will introduce you to the fundamentals of Python and Powershell, so you'll be empowered to further your studies during your first role. 
Is Cybersecurity Hard?
As with any topic, there are different difficulty levels to cybersecurity. If you want to be at the forefront of new security technologies and hacking techniques, you will end up with a lot of complex knowledge. On the other side of things, some career paths stick to the most common types of security or even transition into training non-technical employees to follow cybersecurity best practices. 
Is Cybersecurity a Stressful Job?
As a cybersecurity professional, you are tasked with protecting important personal data. Mistakes can have serious consequences, and your willingness to accept such responsibility is one of the aspects to consider when thinking about a career in the field.
Kickstarting Your Career
Bootcamps are a great way to break into the tech industry, but the options out there are varied and aimed at many different audiences. It's important to think about the scheduling options and support levels you need and research thoroughly to find the right bootcamp for you. The University of South Florida's bootcamp is a truly versatile course that lets students work to their own unique schedule while still benefiting from professional one-on-one support.