5 Best Data Science Bootcamps in Florida
With an average salary of $113,000 in the United States, being a data scientist is a great career aspiration. But discovering the right bootcamp to jumpstart your education can be challenging.
With this list of the top five data science bootcamps in Florida, we're here to simplify your decision-making process. Gain insights into each bootcamp's curriculum, teaching methods, schedules, and career support, and find the one that aligns with your goals.
With this valuable resource, you'll be able to spend less time and effort choosing a bootcamp, and more time working towards your new career.
Are There Good Data Science Bootcamps in Florida?
Florida is home to some of the top data science bootcamps in the country. Leading curriculums and career support put these bootcamps in competition with the best, and there are a lot of benefits you can get from attending a bootcamp close to your own area.
Best Data Science Bootcamps in Florida
Here are our top five picks:
University Of South Florida CTPE
The University of South Florida's Data Science Bootcamp is a 100% online curriculum with over 400 hours of content. During the application process, you take a technical skills survey to determine where in the course you should begin. One option starts with a foundations course in Python, and the other jumps right into the core coursework.
The curriculum includes a range of foundational data science concepts such as SQL and databases, data storytelling, machine learning, and statistical inference. After completing the core modules, you can choose to continue on the generalist track, the business insider track, or the advanced machine learning track.
The course is delivered through a number of hands-on projects, allowing you to build real experience for tasks you'll receive on the job. This includes two capstone projects perfect for your professional portfolio of data science projects.
To support you during the largely independent studying experience, you will have access to a student advisor, weekly 1-on-1 calls with an industry mentor, a career coach, and a Slack community of other students.
Rating
N/A
Features
100% online and self-paced

1-on-1 industry mentor

Career coaching

Student Slack community

Specialization tracks available
Duration
This bootcamp lasts for nine months at 15-20 hours of study per week.
Price
Upfront discount: $9,900

Month-to-month: $2,300 per month

Loans and scholarships available
The Brainstation Data Science Bootcamp is an immersive course with full-time, in-person options. You can also choose to take the course online and part-time over the course of 37 weeks, which includes scheduled breaks in the program to help you recharge and keep up with your existing commitments.
All versions of the course are delivered through live classes, with the online option using virtual classroom software. This allows bootcamp students to engage, ask questions, and collaborate with other students, all of which simulates a real work environment.
The curriculum covers all the core data science skills and a range of in-demand industry tools. It also includes professional development modules to help you kick-start your data science career, as well as personalized career support.
Rating
4.68 out of 5 from Course Report
Features
Full-time, in-person option available

Live classes

Professional development modules

Career support
Duration
The part-time course lasts for about 37 weeks, while the full-time course takes 12. 
Price
Upfront cost: $16,500

Monthly payments available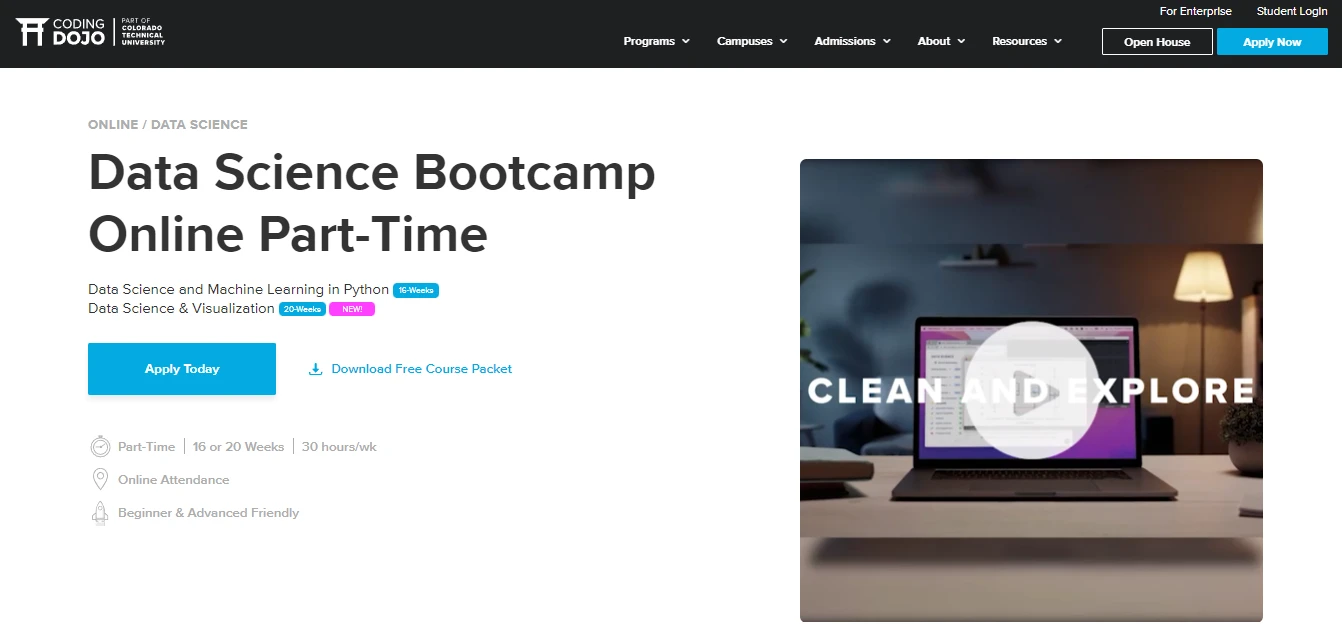 The Coding Dojo Data Science Bootcamp offers two versions of its curriculum: a 16-week course covering data science and machine learning principles, and a 20-week course with an added data visualization module. Both are delivered part-time and online but utilize live lectures, code review sessions, and office hours. There's also a Discord community full of other students and your instructors, so you can discuss the coursework anytime. If you need personalized assistance with your assignments, TAs (technical assistants) are available to help out during weekdays.
Lifetime career support is offered, including 1-on-1 calls with career coaches and access to a thriving community.
Rating
4.42 out of 5 from Course Report
Features
100% online

Beginner-friendly 

Career support
Duration
You can choose from a 16-week or 20-week version of the course, both part-time on a part-time basis.
Price
The 16-week course costs $10,995 and the 20-week course costs $13,995

Installment plans, loans, and scholarships available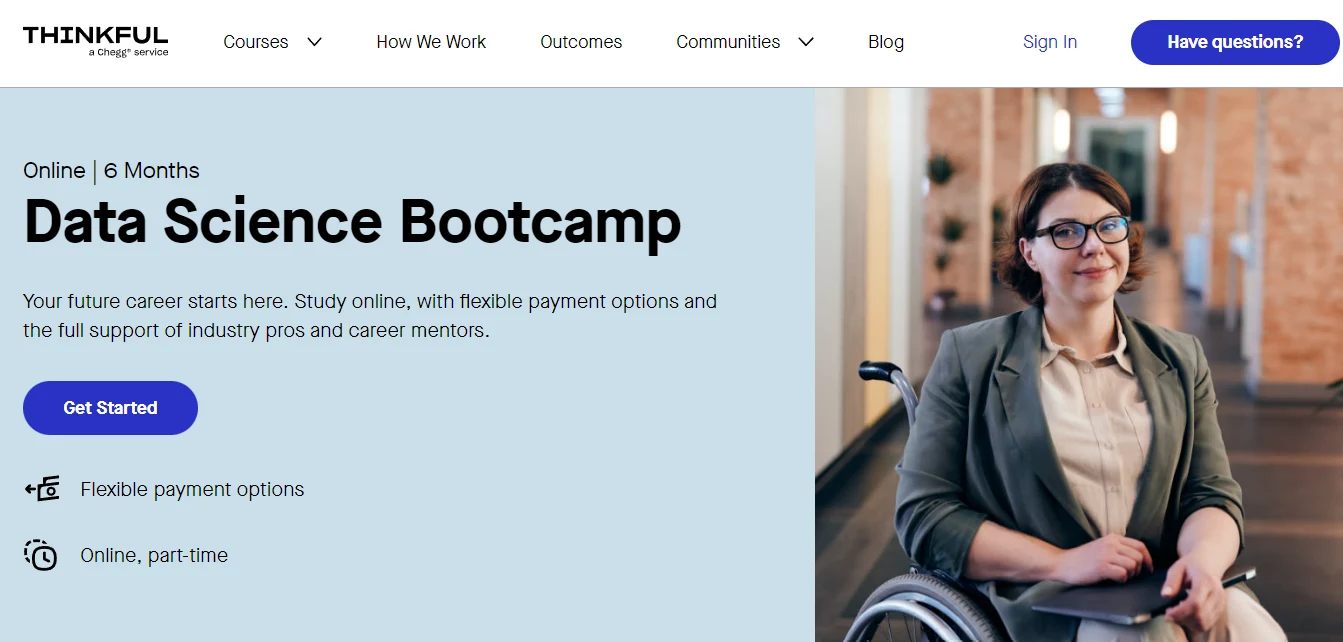 The Thinkful Data Science Bootcamp is an online, part-time course with self-paced lessons. As a part-time student, you'll study around 15-20 hours per week and participate in optional live office hours. To help keep you on track and accountable, you'll also have weekly calls with your personal mentor, where you can ask questions about the course, your work, the tech industry, or life as a data scientist.
The four main modules of the course are as follows:
Analytics and experimentation 

Machine learning: supervised learning 

Machine learning: unsupervised learning

Specializations (time series analysis, deep learning, etc.)
The career services available range from 1-on-1 calls with career coaches to mock interviews, and resume writing support. 
Rating
4.54 out of 5 from Course Report
Features
Online and part-time

Live mentor sessions

Prep course
Duration
The course lasts for six months with 15-20 hours of study per week.
Price
Upfront price: $9,500

Month-to-month payments and deferred tuition are available
Data Science Dojo's Bootcamp allows you to choose from three available plans, customizing the number of resources and amount of support you receive. The Dojo plan includes the core curriculum delivered through live classes, while the Guru plan adds a range of practice resources, a hands-on learning platform, and software resources. The Sensei plan adds 1-on-1 support with five hours of mentoring and a mentored project for your portfolio.
The live classes are held every Tuesday for three hours, with each session recorded for later viewing. Topics covered by the curriculum include:
Data exploration and visualization

Storytelling with data

Predictive modeling

Decision tree learning

Boosting

A/B testing

Text analytics

Unsupervised learning

Linear regression models

Big data engineering
Rating
4.85 out of 5 from Course Report
Features
Instructor-led training

1-on-1 mentoring (paid option)

100% online and part-time
Duration
The course lasts 16 weeks with around six hours of study per week.
Price
Dojo plan: $3,039

Guru plan: $3,199

Sensei plan: $4,500
How Do You Choose a Data Science Bootcamp in Florida?
Here's what you need to think about before choosing your bootcamp.
Syllabus
It can be difficult to run a quality check on a curriculum if you're not yet well-versed in the world of data science. However, one trick is to compare the skills, tools, and topics covered in a bootcamp to online job descriptions for your dream entry-level role. This will give you an idea of where the course is suited to your needs.
It's also important to note that courses can be aimed at different levels of experience. Some are beginner-friendly, while others prefer bootcamp students to already have practical knowledge of programming languages. Some even require a year or two of professional work experience.
Instructor Credibility and Expertise
It has become the standard for data science bootcamps to employ industry expert instructors. This means that each instructor has spent time working as a data scientist, rather than going straight into teaching. This is important for bootcamps because they teach you exactly what you need to do on the job, how to overcome challenges, and even what to expect from life in the industry.
Price and Payment Options
Data science bootcamps entail a financial investment, but most quality bootcamps offer multiple ways to pay to suit different situations. If you see a bootcamp that only accepts full, upfront payment before classes begin, you should know this is not your only option.
Interest-free monthly installments are one of the most popular ways to pay for a lot of bootcamps, and other common options include deferred tuition and financed loans. Many providers also give students access to a range of scholarships they can apply for, while others accept employer sponsorship.
Hands-On Experience and Training
Project-based curriculums are a must-have when it comes to bootcamps. The ultimate goal is to immerse yourself in data science and aim to get hired as soon as possible after graduating—which means the course needs to teach you what to do on the job and how to do it well.
The best way to do this is to complete the kind of real-world projects that you'll be expected to complete on the job. This is the way most bootcamps design their curriculums, so you won't have to look hard to find one.
Job Support
Job support usually comes in two forms: self-paced modules and resources, and 1-on-1 career coaching. Some courses will offer both, while others will only offer one. Choosing a course with comprehensive job support is important for a lot of students, as they want to learn as much about the industry they're trying to break into as possible.
Mode of Teaching
The main two modes of teaching are independent study with pre-recorded content, and collaborative learning with live classes. Both have their advantages, but what matters is the type of learning you prefer and the existing schedule you have. If you need complete freedom, self-paced learning is the way to go.
If you have prior commitments but you want to experience cohort learning, you can choose a part-time program with around one to three live classes a week. And if you're ready to take the intensive route, some full-time courses run live classes for eight hours a day and expect around 50 hours of study per week.
Reviews and Ratings
Bootcamps are not created equally, and it's really important to check what people are saying about each provider. You can use sites like Course Report, Switchup, and Career Karma to get a general idea, and then search for more details on forums like Reddit. Here, you can read about other people's honest experiences and even ask questions.
Location and Proximity
A lot of bootcamps only offer online options or haven't resumed their in-person offerings yet, but location and proximity still matter. It's useful to have a cohort and career staff in your area because you'll develop a community and receive advice that's more relevant to you. Live classes in your time zone are also important because even a two-hour difference could result in an evening class that doesn't end until midnight for you.
Making the Most Out of Your Data Science Bootcamp in Florida
Bootcamps are not the same kind of education you experienced as a child, so it's important to know exactly what you'll get from them and how to make the most of it. Ask yourself these questions:
How Do Data Science Bootcamps Work?
Most data science bootcamps will include a technical survey as part of the application process to assess your suitability for the program. Once you're accepted, you may need to complete a prep course before the main course begins. Once things kick off, you'll start by learning the exact schedule you'll follow for the duration of the course.
This could include live classes, office hours, mentor calls, homework, deadlines, workshops, and more. No matter what level of support your course offers, there will be someone you can message if you're having problems. If not, simply stick to the schedule and get ready to work hard!
What Should You Expect To Learn in a Data Science Bootcamp?
Make sure that the bootcamp you choose covers the following:
Problem identification 

Exploratory data analysis

Pre-processing and training data development 

Modeling 

Documentation

Databases and SQL

Predictive models

Artificial intelligence

Statistical analysis and inference 

Natural language processing

Deep learning

Career/ professional development modules
What Should Be Your Next Steps After a Data Science Bootcamp?
After you graduate, you should dive right into your job search. You can lean on your school's career support team to help you develop a full-time search strategy and apply to as many positions as possible. It's also a good idea to work on a professional certification during this time, as this will help validate your skills to employers. You can earn data science certifications from organizations like IBM, TensorFlow, Cloudera, Google, and Azure.
Data Science Job Market in Florida
You can find data science jobs in a wide range of industries, from transportation and banking to entertainment and retail. Florida is home to a wealth of smaller and private companies for you to explore, as well as some of the biggest names in the country. Here are a few examples of high-profile tech companies hiring in Florida.
Data Science Salaries in Florida
The average salary for an entry-level data scientist in Florida is $100,437. After around five years on the job, you can expect to earn at least $120,682.
Some areas of the state pay better than others. For instance, in Miami, the entry-level average is $114,171 and after five years of experience, it increases to $133,052.
Salaries for experienced senior data scientists in Miami can reach highs of $259,000.
Resources To Find Data Science Jobs in Florida
Here are some resources to find data science jobs in Florida, including some Florida-specific job boards.
Job Boards
Network and LinkedIn
LinkedIn is a great place to find jobs, and for jobs find you! Make sure to take advantage of it by creating a good profile and keeping it up to date—many bootcamp student success teams will help you with this.
Online and Slack Communities
You can expand your network from wherever you are by joining various online communities. Enthusiasts, juniors, and senior data scientists alike use these platforms and they can lead to a wealth of opportunities.
FAQs About Data Science Bootcamps
We've got answers to your most frequently asked questions:
Are Data Science Bootcamps Worth It To Land a Job?
Data science bootcamps are a great way to learn data science from scratch, especially if you want to spend less time and money than college costs. However, it doesn't hurt to snag a couple of certifications while you're completing your bootcamp, especially if you want to specialize.  
Are There Free Data Science Bootcamps?
Bootcamps with live classes and 1-on-1 support aren't usually free, though you can earn full scholarships for some courses depending on your circumstances. Some courses also accept employer sponsorship, where your current employer pays for you to upskill. If neither of these options applies to you, you can find self-paced online courses and resources for free.
What Certifications Are Most in Demand for Data Science?
Here are some of the most in-demand certifications for data science: DASCA Senior Data Scientist (SDS), IBM Data Science Professional, Microsoft Certified: Azure Data Science Associate, SAS Certified Data Scientist, and TensorFlow Developer Certificate.