Top 5 UI/UX Design Bootcamps in Florida
UI/UX designers are integral to the development of every single app and website that you use. If you aren't familiar with the lingo of UI and UX design, here's a quick breakdown—UI designers work on the look or "user interface" of an application, while UX designers are responsible for the "user experience" and creating an intuitive user journey.
UI/UX designers are in high demand in tech hubs like Florida. According to the 2023 CompTIA report, Florida is experiencing a decades-high 5.4% projected growth rate for this corner of the tech industry, leading to a boom in UI/UX design bootcamps in the state. These bootcamps are immersive online or in-person programs that get you ready to join the UI/UX workforce in a matter of months, not years.
Want to make sure you enroll in the best UI/UX design bootcamp in Florida? Then you're in the right place. Below, we'll break down the top five bootcamp that can train you to be a top-notch UI/UX designer.
Understanding UI/UX Design Bootcamps
Though the career paths of a UX designer and UI designer differ, UI/UX design bootcamps teach hard and soft skills for both jobs. Soft skills like collaboration, critical thinking, and empathy are common for most jobs, but there are three essential hard skills for UI/UX designers:
User Research - The first step in creating an application is user research. This helps understand how users interact with the app and other insights before planning the layout or basic design.

Interaction Design - Interaction design (IxD) focuses on the human/device relationship. IxD ensures the interface and design are intuitive (like single clicking or double clicking, swiping up or down).

Information Architecture - Information architecture is concerned with the overall structure of an app or website, how all the pieces fit together, and how each item relates to the others.
Besides hard skills and soft skills, UI/UX designers must also master tools like Sketch, Adobe XD, or Figma. These software tools enable designers to work on vector-based digital designs vs. print designs in a collaborative environment.
UI/UX bootcamps simplify these high-concept lessons into immersive units that can be completed part-time or full-time. Students attending full-time must dedicate 40+ hours a week to coursework for 12 weeks. Part-time students only need to commit to 10-20 hours of coursework per week for 24 weeks, so they can work while learning to be a UI/UX designer.
Top UI/UX Design Bootcamps in Florida
Here's an overview of the best UI/UX design bootcamps in Florida.
University of South Florida
Backed by one of the top 50 public universities in the nation, the University of South Florida UI/UX Design Bootcamp CTPE is a self-paced, part-time program offered 100% online. The carefully curated curriculum prepares future UI/UX designers to learn core principles and best practices while working on multiple real-world capstone projects for their professional portfolios. Industry experts lead units, and students are paired 1:1 with a design professional for mentorship and weekly support.
Rating
Features
The curriculum is designed to help students land their first design job

1:1 mentorship with industry experts, 24/7 student support, an online community, and personal student advisors

A final capstone project for a real company

Zero prerequisites
Duration
 9 months at 10 hours per week
Price 
Pay $11,900 upfront for a 15% discount

Pay $2,790 month to month for five months, totaling $13,950

Financial aid includes loan options and scholarships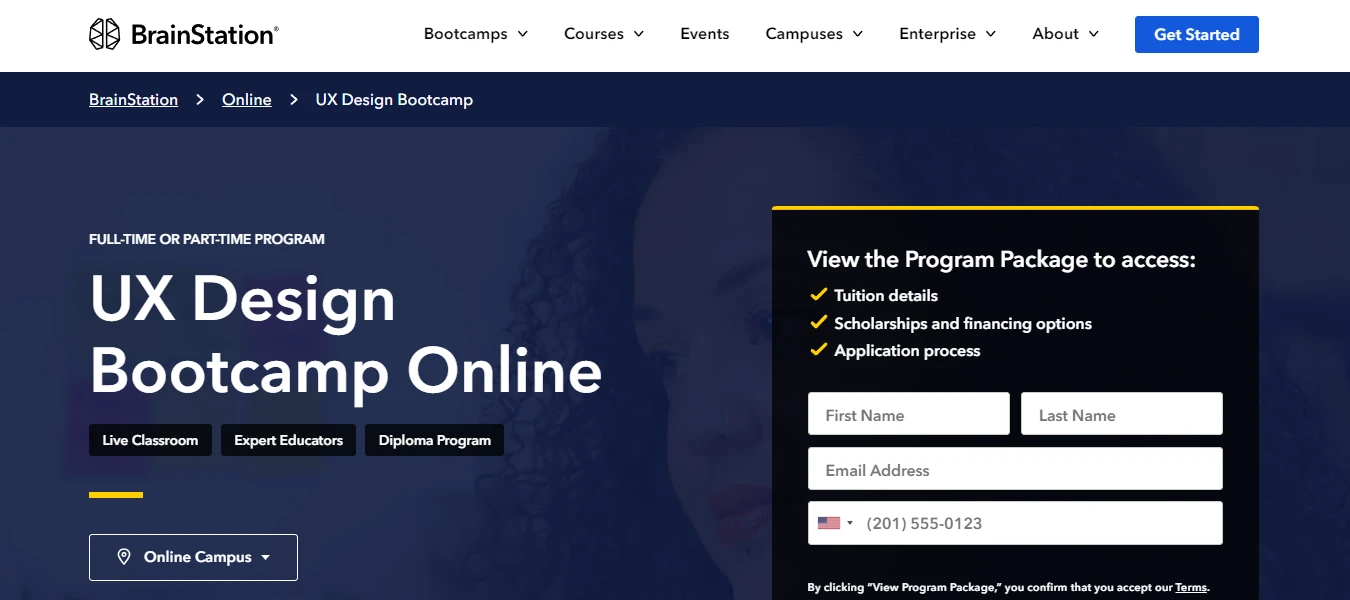 The UI/UX Design Bootcamp from BrainStation is an online and in-person program with full-time and part-time schedules. Students first start with design sprints to help with time-management skills. You'll learn to perform detailed research, build and test prototypes, implement responsive design principles, and more. The bootcamp offers extensive professional development, including portfolio building and BrainStation's Career Accelerator Program.
Rating
Features
Immersive, hands-on training from industry experts

90%+ hiring rate within 180 days of graduation

Access to Career Accelerator Program

Opportunities to meet potential employers 
Duration 
Their full-time program is based in Miami, and lasts for 12 weeks, with a Monday-Friday schedule

Their part-time program is online only and lasts for 24 weeks, with classes taking place in the evenings and on Saturdays 
Price
$16,500 upfront or $747/mo for 24 months
IronHack's UI/UX Design Bootcamp boasts a curriculum based on in-demand skills. Future UI/UX designers will learn coding, user-centered design principles, project design, UI close-loop design, website animations, and design implementation through four modules taught by tech professionals. IronHack offers part-time and full-time programs, financing options, and career services.
Rating
Features
Beginner-friendly technical exam for determining aptitude

Partnership with 600+ companies for job placement and mentorship

In-person learning option

Classes led by industry professionals
Duration 
Their full-time, 9-week program takes place in person in Miami 

Their part-time, 24-week program is online-only
Price 
$12,500 full-time tuition

$13,000 part-time tuition

The Miami Ad School UX Design Bootcamp is a full-time, in-person program. Lectures and sessions are led by industry professionals in agencies, design firms, and marketing departments. Students gain theoretical knowledge, participate in toolbox sessions (immersive working sessions), and build hard and soft skills under the mentorship of an industry expert. They also offer a visa program for international students.
Rating
Features
Instructors are industry experts working at agencies

Combination of theory and immersive skill sessions

Personal career advisor

Visa program for international students
Duration 
Their full-time, 12-week program entails a 120-hour commitment
Price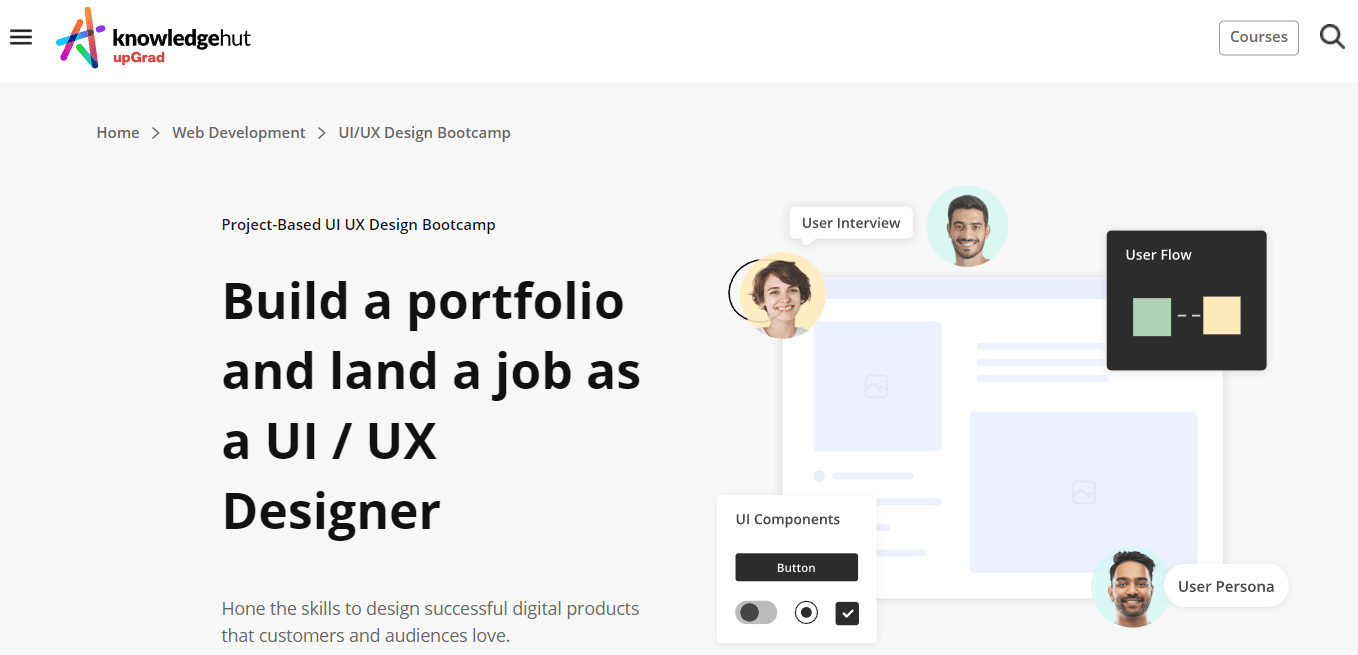 The KnowledgeHut UI/UX Design Bootcamp is a project-based, 12-week bootcamp with live sessions. Instructors average eight years of experience in UI/UX design, and students are offered 1:1 mentorship with industry professionals. You can expect to work on a real-world capstone project starting on day one, and you'll get extensive career guidance, feedback, and portfolio enhancement throughout the course.
Rating
Features
Project-based bootcamp with a full unit on portfolio-building

Access to industry professionals via lessons and mentorship

Complementary courses and eBooks for self-paced learning

100% satisfaction guarantee
Duration
12-week, self-paced program
Price 
$3600 paid in full or $4176 when paid monthly 

Installment plans, scholarships, and group discounts are available
The Growth of UI/UX Design Bootcamps
Florida is home to over a dozen UI/UX design bootcamps. With more than 4,500 web and digital interface design jobs up for grabs in Florida, attending a local bootcamp gives you proximity access to 38,796 tech businesses and other companies in the state looking to hire job-ready UI/UX designers.
Components of a Top-Notch UI/UX Design Bootcamp
What makes a UI/UX design bootcamp top-notch? Here are several components to consider.
Immersive Learning
Immersive learning bootcamps expose students to real-world scenarios. From UI/UX research and ideation to building prototypes that actual companies could use, students learn by doing.
Design Skills Development
Regardless of your career path, UI/UX bootcamps teach design skills that are fundamental for both areas. These include prototyping, wireframing, mockups, and design elements such as typography, color theory, icons, and layout. 
Responsive Design Fundamentals
UI/UX designers use responsive or user-centered design fundamentals to develop the function, visual elements, and usability of an application or website's interface or overall design features. Bootcamps will teach best practices for core principles such as:
Fluid grid systems

Fluid images

Media queries

Breakpoints
Career Coaching
In-depth career coaching can make a huge difference in the opportunities available to bootcamp graduates. This is more than just job advice; the best UI/UX design bootcamps in Florida will guide students through various career services to help them successfully secure a job.
Understanding job titles and descriptions

Application process assistance

Interview preparation

Writing resumes and cover letters

Networking fundamentals
UI/UX Design Career Path
There are several specializations within the field of UI/UX design. Below are popular career options for UI or UX designers and the average salaries for each in Florida.
The Benefits of UI/UX Design Bootcamps
UI/UX design bootcamps get you job-ready in a fraction of the time that it takes to complete a traditional college degree. Here are some of the other benefits:
Immersive Learning - Students learn by doing and hands-on training, rather than through lectures.

Cost - UI/UX design bootcamps cost between $4,000 and $16,000, while colleges and universities can cost exponentially more.

Time - Degree programs take at least two years to complete, whereas bootcamps can be completed in 12-24 weeks.

Access to Industry Professionals -  College and university classes are typically led by sitting or tenured professors. Bootcamps rotate industry experts so students learn from those working in the field.
The University of South Florida UI/UX Design Bootcamp offers one of the most flexible and comprehensive UI/UX design skill-building experiences. Students have access to the latest design tools, 1:1 mentorship by industry experts, hands-on learning, access to career coaching, and end-to-end real-world capstone projects.
Preparing for a UI/UX Design Bootcamp
While many tech bootcamps require coding or other prerequisites, UI/UX design bootcamps are beginner-friendly. Besides a passion for design, some bootcamps may request students take an aptitude test or offer pre-courses for more advanced studies. If you're ready to dive in, here are some tips to keep in mind:
Stay motivated, especially during intensive coursework and projects.

Develop a support network through online communities or the school once you enroll.

Practice time management skills by scheduling and completing tutorials, working around your current job duties if you plan to attend a part-time bootcamp, or making sure you have downtime for your health.

Make a list of apps, websites, or books that inspire design ideas.